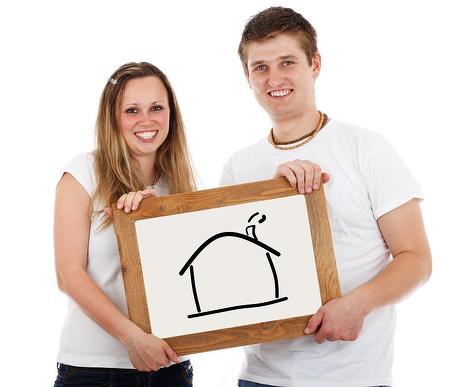 7 Steps and 2 Financing Plans That Help You Get Into Your First Home… But first there's a test to pass.
Navigating the world of Canadian home buying and financing for the first time.
Charles Racette
Step 1: Figure out how much you can afford.
Falling in love with a house you can't afford can be heartbreaking. Avoid disappointment by figuring out your budget before you start looking. 

First, decide how much you can afford for your down payment and find out what government programs you can benefit from. The federal government's Home Buyer's Plan (HBP) let's you withdraw up to $35K per person (or up to $70K per couple) from your RRSPs - tax-free - to be repaid over 15 years. The bigger your down payment, the less principal you will owe, and the less interest you will pay.

There's another program from the federal government that may also help and that's the First Time Homebuyer Incentive (FTHBI). The First Time Homebuyer Incentive is a shared equity mortgage program. A shared equity mortgage is one where the government offers you financing without interest to help reduce your monthly mortgage payment without increasing your down payment. Through the First Time Home Buyer Incentive, the Government of Canada offers a first-time home buyer:

- 5% of the purchase price of an existing home
- 5-10% of the purchase price of a newly constructed home

You need to repay the incentive after 25 years or when you sell the property. You can also repay it any time without a pre-payment penalty. An important thing to understand about this program is that the repayment is based on the fair market value of the property at the time of repayment and not what was originally paid. 

For more information about The Home Buyer's Plan (HBP): Click Here 

For more information about The First Time Homebuyer Incentive (FTHBI): Click Here

Don't forget about closing costs, life insurance, legal fees, home inspection costs, land transfer and registration fees and even Quebec's Welcome Tax. Add those to your moving expenses and service hookup fees, and they can add up surprisingly fast.

Your monthly housing expenses (mortgage, taxes, heat etc.) shouldn't use up more than 32% of your income. (If your combined monthly income is $5,000, for example, 32% of that is $1,600.) If you have car payments or credit card debt, the rule of thumb is that debt repayment shouldn't be more than 40% of your income. 

Get pre-approved for your mortgage. It's a good way of finding out how much you can borrow - and it speeds up the process once you've found the home you want to buy. This said, it helps to understand what is required to be pre-approved.

Since 2018 all Canadian homebuyers applying for a high-ratio or uninsured mortgage have been subject to a Mortgage Stress Test. The stress test requires banks to check that the borrower can still make their payments at an interest rate that is higher than they actually pay. Credit unions and other lenders that are not federally regulated do not need to apply the mortgage stress test  to their clients but banks and the usual mortgage lenders do. What rate the banks will use for the stress test depends on what type of mortgage you are applying for and how much down payment you are providing. If you are using mortgage insurance through organizations like CMHC or Genworth, the bank will use the higher interest rate between either:

- The Bank of Canada's conventional five year mortgage rate
- The interest rate you negotiate with your lender

If you don't need mortgage loan insurance, the bank will use the higher interest rate between either:

- The Bank of Canada's conventional five-year mortgage rate
- The interest rate you negotiate with your lender plus 2%

You can sleep well at night knowing that even if interest rates go up, you were approved with that taken into consideration so you should be fine. Better safe than sorry. 

For more information about Canada's Mortgage Stress Test: Click Here
Step 2: Figure out what type of home is right for you.
Sit down and make a list of must-haves and nice-to-haves. Be realistic, but be clear about the features you can't live without. How many bedrooms do you need? Bathrooms? Do you want a home office? A garage? How about a big backyard? Hardwood floors? Eat-in kitchen? Consider your lifestyle and your stage of life. If you're planning kids in a year or two, the studio loft might not be your best bet.
Step 3: Decide where you want to live.
Living in an area you like is as important as buying a home you love. Do you want a busy urban lifestyle, a house in the 'burbs, or a quiet place in the country? Do you want to walk to work or are you okay with a longer commute? Do you need to be close to good schools? Rec facilities? Shopping? A very smart lady once told me buy the neighbourhood. You can renovate and change the house but your neighbourhood is what it is and changing it requires the efforts of the entire community and that's assuming that the entire community wants what you want. Chances are that if they live there, they chose there and are probably happy with the way it is. So yes living in an area you love is definitely as important as buying a home you love!
Step 4: Build your team and start looking.
Find the right Realtor for you, someone who will act as your trusted advisor. Then build your team including, a reputable mortgage broker, lawyer or notary in Quebec, home inspector and insurance broker. Your Realtor has his or her own team of professionals they trust and work with. He or she can provide referrals to more than one of each so that you can choose the ones that you have the best fit and connection with. 
Start looking on Centris.ca in Quebec and Realtor.ca right across Canada. Drive around neighbourhoods you like looking for For Sale signs. Go to some open houses with your Realtor and have him or her search out properties for you based on your specific wants, needs and tastes. Their experience can open up options that you never expected and lead to the perfect home for you and yours.
Funny story, when my wife and I first moved to Quebec (near Montreal) we contacted a Royal LePage Realtor and set out to find our home. We explained to him exactly what we were looking for and what type of neighbourhood we would like it to be in. Between our meeting with him and our planned tour to visit houses together we looked at houses on Realtor.ca. I came across a bunch of houses I thought looked good and one in particular that I told my wife "Never in a million years". Our Realtor showed up the next morning sat down to show us the houses we would be visiting and guess what house was the first one he showed us "Never in a million years". After twisting my arm, promising me that we would leave immediately if I still hated it and I think he may have even thrown ice cream into the deal, we agreed to go see it. It was the first house we visited and after being in the house for maybe 10 minutes, my wife and I both knew that the rest of the day was just a formality. Almost 20 years later we are still in the home that we love, in the perfect community for us and have no intention of moving anywhere. Thanks Simon!
The moral of the story, make sure that you are clear about what you want and that your Realtor is following that direction but remember that your Realtor is a professional, has your best interest at heart and my find some hidden gems you would not have seen otherwise.
Step 5: Make an offer.
You've found the perfect place – now it's time to make an offer. An offer to purchase includes the purchase price you're offering, chattels to be included in the purchase (like appliances or light fixtures), the amount of the deposit, the closing date and any other conditions.

Your REALTOR® will help you prepare your offer, and will present it to the vendor, who will either accept it or make a counter offer (which asks for a higher price or different terms). You can accept or reject the counter offer. If everyone agrees, the home is yours. If not, you can make another offer, or you may have to keep looking.
Step 6: Get a mortgage.
Once you've met with your mortgage broker and are approved, you'll need to decide what type of mortgage works best for your needs. Will you go with a fixed or variable interest rate? Will your mortgage be closed or open? What will your amortization period be? Will you make payments monthly, biweekly or weekly? Your mortgage broker or lender can help you find a mortgage that suits your needs – and saves you the most money in the long term. Remember that if you have a great relationship with your financial institution and it's staff, that may well be the best place for you to get a mortgage but they have only their institutions products and offers to work with. Your mortgage broker has several institution's and alternative sources to work with and will get you the very best conditions he or she can for the purchase of your home. 
Step 7: Move in and enjoy!